With this weekend's news that Saracens are heading for the Championship next season, we thought we'd look back on the last time Nottingham took on Sarries in a competative fixture.
The last meeting between the two sides took place almost 25 years ago, on 25 March 1995, at Bramley Road, Enfield, in Courage League National Division Two.
The hosts ran out 32-7 winners, with Notts' points coming from a Buster Musto try & Matt Gallagher's (pictured above – bottom right) boot.
For the last Nottingham victory over Sarries, you have to go back to 12 March 1994, where Guy Gregory's (pictured below) six converted penalties gave Notts a 18-9 victory at Ireland Avenue, in Courage League National Division Two.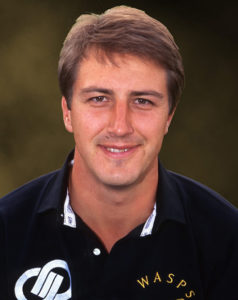 A lot can happen in the next eight months before we can say for certain that these two great old sides will be meeting again next season but one thing is for sure, should it come to fruition, it will be a keenly anticipated fixture by all.